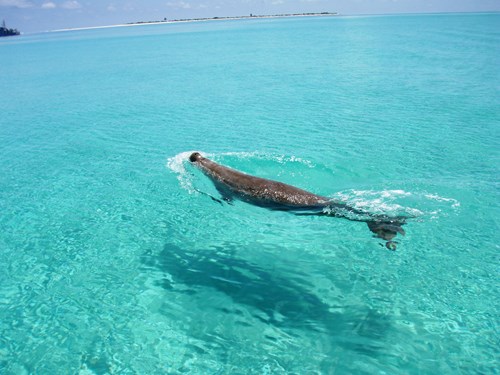 Torres Strait is known as the dugong capital of the world. To our people, dugong, or Dhangal/ Deger, are central to our culture, communities, ceremonies, our subsistence economy and our spirituality and worldview. Dugong help define who we are and how we connect to our sea country. Across Torres Strait, communities are recognised as the primary custodians of this iconic species. We have sustainably managed dugong for thousands of years and are proud stewards of the largest dugong population on Earth.
Community-based management plans, reflecting customary protocols alongside western science and best-practice management approaches, are now being implemented by Traditional Owners across the region. The plans are endorsed, overseen, and owned by the community and Traditional Owners, and actioned through partnerships with LSMU, rangers, researchers, and fisheries management agencies, including through bilateral processes under the Treaty between PNG and Australia.
Our custodial management approaches are founded on respect for Elders and traditional lore. Rangers play a key role in supporting compliance with domestic environmental laws and assisting Traditional Owners to apply customary lore in relation to the sustainable management of dugongs in Torres Strait.