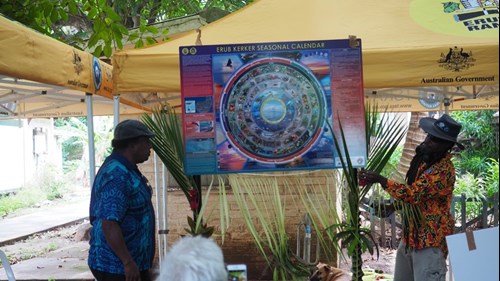 Seasonal calendars are powerful tools for promoting and revitalising traditional languages and ecological knowledge, as well as recording and strengthening cultural connections between Torres Strait Islanders and their islands and sea country. Erubam Traditional Owners from Erub (Darnley Island) in eastern Torres Strait have recently developed Erub Kerker, a seasonal calendar poster that highlights how Erubam Le (people from Erub) traditionally coexisted with their land and sea country on Erub and surrounding islands.
Erubam Le RNTBC Chair, Mr Jimmy Gela, acknowledged the enormous contribution made to the project over three years by the Erubam community, Erub Arts, Elders and rangers.
Mr Gela stated, "By coming together and working as a team, Erubam community have demonstrated their commitment to protecting and preserving our language and cultural knowledge for future generations of Erubam Le. The Erub Kerker poster is an important tool to rekindle our kids' interest in our culture. Erub Kerker is rich in language and incorporates artwork from the talented team at Erub arts. The poster depicts important elements of our ancestors' traditional knowledge including the predominant seasonal winds and how Erubam people navigated, hunted, gardened and lived alongside nature in our part of the world."
Erub Kerker has been delivered to all schools in Torres Strait and has been incorporated into the regional curriculum as an educational tool for youth and to promote the language and culture of Erub.